Vietnam has become a hub for the adventurous, with budget backpackers and travel bloggers leading the way. In recent years it's seen an influx of digital nomads, entrepreneurs and young expats looking to explore all that this unique country has to offer. Many people come to teach English for a year and stay much longer than planned!
One of the first things people want to know when they arrive is where can they find groceries. If this is you, we hope this article helps answer your questions.
Grocery shopping in Vietnam is still done very much traditionally, with local markets and small family run stores accounting for 90% of the shopping done in the country. They offer cheaper and fresher produce than supermarkets so it's not hard to see why locals love them.
You might be surprised to know that going to a supermarket or shopping online is only done by about 8% of people in Vietnam, but that number is quickly rising.
The middle class is expanding rapidly in Vietnam and, as people's wages rise, they are looking for more variety in food choices. The average monthly salary of a worker in Vietnam is about $148 per month, and Vietnamese households dedicate a whopping one third of that towards their weekly grocery shop.
Grocery retailers are expanding to take advantage of Vietnam's impressive economic growth rate and increased food expenditure as of recent years, especially in wealthier areas like Hanoi and Ho Chi Minh City.
In spite of this, the number of supermarkets are still fairly low. According to Statistica 2021, there's only 1 supermarket for every 83, 000 people. That's not to say you won't be able to find some good ones though if you live in a city.
Most popular supermarkets in Vietnam
Co-op mart
Co-op mart is the leading supermarket chain in Vietnam (in terms of number of stores) with 128 outlets as of 2019, especially popular in the south. Their products are generally cheap and high quality.
They don't have the best layout, though, and are always busy, so it helps if you're not in a rush when you're shopping here.
It's worth joining their membership program to get their weekly deals. If you spend over 200, 000 VND ($8.40 USD), then you'll get to purchase one of their special offer items for free.
Big C
Big C, a widely-known hypermarket throughout Vietnam, is the go-to shopping destination for many expats and locals alike. Boasting locations in over 20 cities and provinces, it's not only food they sell but electrical items, clothes, toys, stationery and household items like hairdryers and fridges. They also have cosmetics, wine, and organic products at really affordable prices, and a bakery with fresh pastries, yes please!
However, there are usually big crowds at peak times like evenings or weekends, so it's wise to avoid those hours. They're attractive and well-laid out it makes for a pleasant shopping experience.
LOTTE Mart
This international supermarket chain is owned by Korean entrepreneurs. With their unique selection of global specialties from around the world, as well as locally-sourced products, they are another grocery chain that is planning on expanding in Vietnam.
AEON
Stop by this mall-based supermarket chain to find all the items you need for your home, from fresh groceries and household supplies to stylish clothing and tech gadgets. They have malls in Hai Phong City, Ho Chi Minh City and Hanoi and plan to have 25 malls across Vietnam by 2025, so you'll be seeing more of them.
E-Mart
E-Mart has an extensive selection of international delicacies and local products alike, they plan to have 26 hypermarkets in Vietnam by 2026.
Metro
This German-owned supermarket has an impressive selection of groceries, home essentials and even clothing and electronics.
MM Mega Market
Thai owned supermarket chain MM Mega Market is probably the cheapest supermarket you'll find in Vietnam. It has a basic layout with well labelled items so it's easy to find things.
They have 19 outlets across the country and offer a variety of international and local products. You can also expect hygienic spaces and high food safety standards from them. They don't offer free plastic bags, but you are welcome to help yourself to their free boxes.
Vinmart
You'll see VinMart everywhere in Vietnam. It is the convenience chain in Vietnam with the most stores in the country (over 2,600 outlets). They have an expansive array of essentials, with over 40, 000 products, whether it's cosmetics, food items or electronics.
Where can I go for an all-in-one shop?
If you don't feel like going to multiple places for your weekly shop, AEON, Lotte Mart, Big C or Emart all have an enormous selection of items available under one roof–from everyday staples to the most exotic delicacies.
Shopping on a budget in Vietnam
If you are shopping on a budget, then Co-opmart and MM Mega Market are great options if you're looking to save some Vietnamese dong (VND).
Differences between western and Vietnamese supermarkets
Catch your own fish
At most supermarkets in Vietnam, you'll see fish swimming in tanks in the seafood section. Ready-to-catch items like prawns, lobsters, turtles and eels await you in their tanks. Once you've scooped them up in the net provided next to each tank, an employee will pop them into a bag of ice ready for you.
At the supermarket, you'll find all traditional meats – pork, chicken and beef. They also have some more unique options, like ostrich and buffalo. It's true that locals eat meats like dog, cat and mouse, but you won't normally see these in the supermarkets. You'll have to go to a market for them instead.
Take away food while you shop
With takeaway food playing a big role in Vietnam's gastronomical culture, it's no surprise that the country's most popular supermarkets also have sections devoted to picking up ready-made meals. Some are quite impressive with sushi bars, delicious pho stalls and salads. Most of these places even offer seating areas like you'd find at any good restaurant.
Free delivery
Most supermarkets will offer you free delivery if your live within 5-10km of the store, as long as you spend 200,000 VND ($8.40 USD) or more.
Convenience stores in Vietnam
Although Vietnam is short on supermarkets, it is home to many convenience stores. If locals need a late-night snack or last-minute purchase, their go-to stores are Winmart, Circle K, Family Mart and 7-Eleven. They always stay open late – though prices may be slightly higher than elsewhere.
This Vietnamese-owned convenience store chain, Winmart, offers an extensive selection of snacks, drinks and cigarettes. It has 123 outlets stores in 2019 (plus it also has large hypermarket versions, too).
American owned Circle K is open 24 hours and has a range of snacks, drinks, cigarettes and more.
Family Mart is a Japanese chain that offers basic essentials and snacks.
American-owned 7-Eleven is opening up more stores in Vietnam.
Why do people in Vietnam prefer traditional stores and markets to supermarkets?
To answer this question, we have to take a look at Vietnamese culture and habits.
Most Vietnamese own motorbikes and want to be able to quickly go into the store, pick up essentials for the day, and head off again. Parking a motorbike in a supermarket parking lot, selecting a week worth of groceries, and lining up to pay, all take time. Plus, there is only so much you can carry home on a motorbike.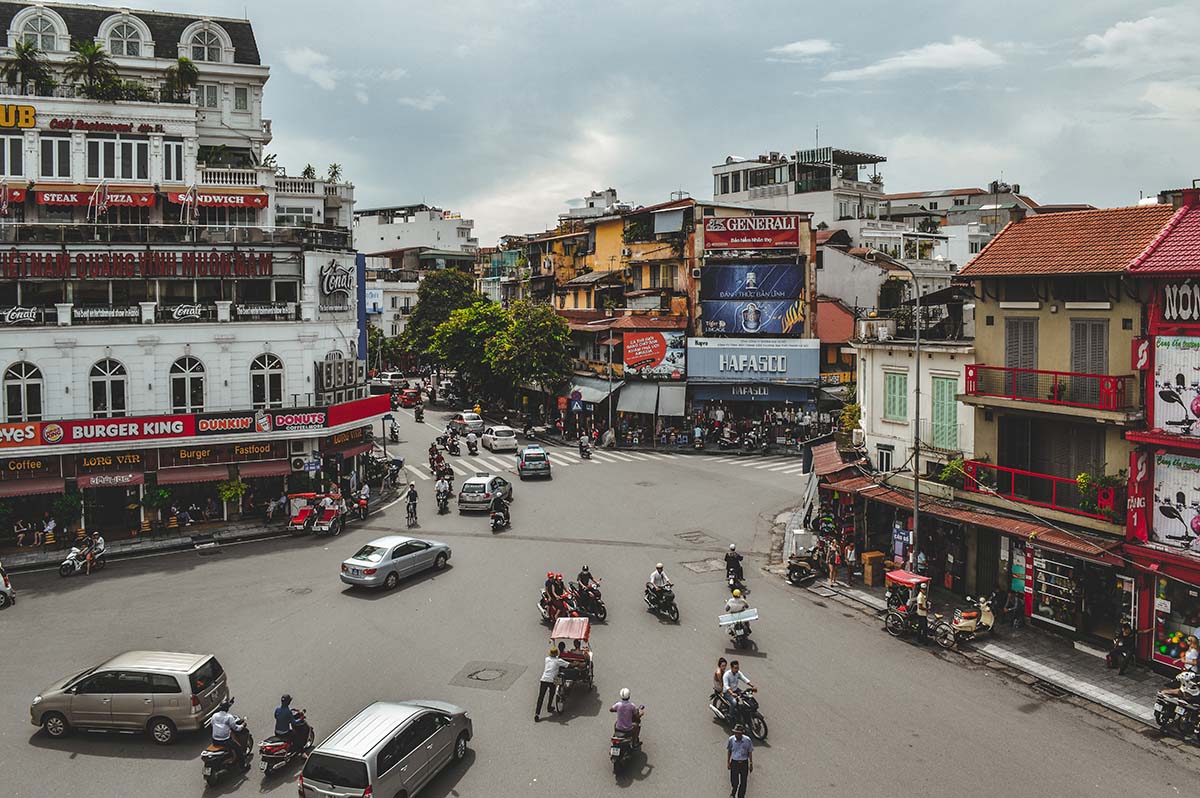 Shopping in cities versus villages
Around 70% of people in this country of almost 98 million live in rural areas where supermarkets and convenience stores are less abundant. In that case it's not about preference, modern shopping is just not an option (not yet, anyway).
Online grocery shopping in Vietnam
During the pandemic, the online demand for essential items increased, and shopping apps such as Tiki, Shopee, Lazada, Sendo, Foody, etc. now include groceries in their product range.
Urbanization, a growing middle class, and widespread mobile internet use have created the perfect conditions for delivery services in cities like Hanoi and Ho Chi Minh City – busy urbanites can now purchase convenience with just a few clicks from their phones.
Top Food Delivery Apps in Vietnam
Grab Food
Grab has expanded from just ride hailing to delivering food and groceries in Vietnam.
Download app: Google Play
Shopee Food
Shopee offers ready meals, groceries and fresh fruit and vegetables.
Download app: Google Play
Baemin
Baemin is a recent arrival to the Vietnamese market, but has already picked up a large share of grocery orders. It's already one of the most downloaded apps in Vietnam.
Download app: Google Play
Bách Hóa Xanh
Bách Hóa Xanh has 1,730 supermarkets across Vietnam and a great online shopping portal. They have a wide range of products and you can either go to the store for your groceries or get them delivered to your home. Plus they have free parking.
Download app: Google Play
Foodmap
This online platform is a recent start up that offers a wide variety of products from fresh vegetables and fruits to gourmet coffee and tea.
Visit website: https://foodmap.asia/
Shopping like a local – Markets in Vietnam
If you want to shop like a local, then you'll need to check out the local markets. You'll find street markets everywhere in Vietnam. Some really good ones in the two biggest cities Hanoi and Ho Chi Minh City. 
Markets in Hanoi
Street Night Market
Have you heard about the Street Night Market in Hanoi's Old Quarter? It's a wild affair with over 4000 shops bustling under a starry sky – and you can find all sorts of tasty treats from bun thang to pho for really affordable prices on Friday, Saturday and Sunday nights. 
Dong Xuan Market
This bustling two-story market has all kinds of goods, such as fresh seafood, meat and veggies. Plus, all items are offered at affordable wholesale prices- and the shop keepers here are known to be extra friendly.
Markets in Ho Chi Minh City
Ben Thanh Market
If you're looking for an immersive shopping experience in Vietnam, then – Ben Thanh Market is the place to be. During the day, it's buzzing with sellers of fresh produce and coffee beans. When night falls however – all sorts of apparel shops selling at affordable prices open up. 
Bin Tay Market A.K.A Cholon Chinatown Market
Vietnam's Ho Chi Minh City is home to the biggest wholesale market around, with over 876 stores full of spices, clothes and much more. Whether you're looking for traditional Vietnamese crafts or some new kitchenware, this bustling bazaar has got it all.
Other popular grocery markets in Vietnam
Han Market
Halfway between Hanoi and Ho Chi Ming City is Đà Nẵng, which has is home to Han Market. From a diverse range of fruits to kitchen supplies, Han Market is a one-stop destination for all kinds of groceries. While you're there be sure to stop by the food court and treat yourself to some delicious Vietnamese fare, such as aromatic turmeric noodles, scrumptious pancakes or flavourful broken rice! 
Hoi An Central Market
Nothing says "Vietnam" like a trip to this heritage market, located right on the banks of Thu Bon River. The perfect destination for both a grocery shop and a lunch stop, you'll find fresh fish dishes alongside fresh produce.
Binh Tay Market
Binh Tay Market is nestled within Ho Chi Minh City's Chinatown. Here you can taste delicious Chinese & Vietnamese dishes from local vendors while stocking up on fresh produce.
What are some classic Vietnamese recipes?
Vietnam is a vibrant melting pot of flavors and culinary traditions. With every region boasting their own unique take on the nation's food scene, you're bound to find something delicious no matter where you find yourself.
Its unique regional flavors are the result of years of different influences – nor just from within Vietnam itself as well as beyond its borders. Chinese dynasties introduced noodles to Viet people centuries ago and then in the 1800s, French colonization brought extra flavours to local cuisine.
Vietnamese Recipes
If you are immersing yourself into Vietnamese culture, here are a few classics to get you started (and some ideas for what to put on your shopping list).
Bún bò Huế (Beef Noodles)
Bún bò Huế is a mouthwatering dish from the central region of Vietnam. It features tender slices of beef in an aromatic broth, blended with fragrant lemongrass and pungent fermented shrimp paste – all served over rice vermicelli noodles. This popular Vietnamese delicacy has been delighting taste buds around the world for years.
Phở (Noodle Soup)
Ready to dive into the deliciousness of Vietnam? Phở is at the top of any foodie's list. This French-influenced dish starts with a light stock simmered for hours that gets combined with various herbs and spices.
Gỏi cuốn (Spring Rolls)
For a true taste of Vietnam, you've got to try the iconic spring rolls. Unlike their fried counterpart in the US, these refreshing bites are made with thin bánh tráng (rice paper) that's been lightly soaked and then filled with grilled pork or prawns, vermicelli noodles and veggies for an explosion of flavour.
Mastering your own rolling technique is part of the process – don't be intimidated! It might take some time to perfect but it'll definitely get tastier each time. (They're called Nem cuốn in the North).
Xôi (Sticky Rice)
Xôi is a well-known Vietnamese dish that's become ubiquitous throughout the country. It is made from glutinous rice and can be eaten for breakfast, and comes in many sweet versions – think coconut milk, mung beans or even durian! There are also around 10 to 15 savory options of this sticky/glutinous rice concoction, meaning you'll certainly find something satisfying until lunchtime rolls round.
If you need some inspiration, a great Vietnamese cookbook is Vietnamese Food Any Day: Simple Recipes for True, Fresh Flavors by Andrea Nguyen.
Andrea's book is the perfect guide to get you started with Vietnamese dishes. She covers an array of recipes: from essentials like pho and banh mi, to more advanced dishes such as cha ca la vong.
What do locals put on their shopping list?
Vietnamese cuisine is renowned for its healthy, flavourful dishes. The meals mainly consist of steamed or stir-fried rice alongside a variety of vegetables and fish.
Rice is the cornerstone of Vietnamese cuisine. Breakfast, lunch and dinner usually involve some variety of steamed white rice as a staple – from congee to pho noodles. The sides vary greatly, however; think ground pork or marinated beef with bean sprouts, fresh basil leaves and everything in between.
You won't usually find dairy on the average grocery list, though. The Vietnamese diet is generally devoid of calcium-rich dairy products and soy sources, and many Vietnamese adults are actually lactose intolerant.
Street Food
Some classic Vietnamese dishes are not the easiest to make at home, and are probably best enjoyed at a street stall or market.
Trứng vịt lộn (Embryonic Duck)
If you're feeling adventurous, you could try this intriguing dish – Balut (Trứng vịt lộn) for example. This traditional delicacy is a fertilized duck embryo that's steamed in its shell – so it may not be everyone's cup of tea.
Bánh cuốn (Pancake Dumplings)
If you're looking for an interesting street snack (and something less dramatic than an embryonic duck) then look no further than the delicious dish of Vietnamese Banh Cuon.
Watching the skilled street cooks cook this is a delight. The process involves pouring fermented rice batter onto stretched cloth over boiling water to create thin crepes; these are then filled with pork and mushrooms before being cut into bite-sized pieces and served with fish sauce and crispy fried shallots.
Banh mi (Baguette Sandwich)
You may have heard of the classic French sandwich, but Bánh mì is taking sandwiches to an entirely different level. This delicious Vietnamese meal packs a punch with its unique combination of traditional and modern flavours.
Enjoy succulent meats like pork sausage, creamy pâté, zesty pickled vegetables and cilantro for freshness – all piled high inside one scrumptious baguette. And whether you're a meat lover or veggie-fanatic there's something here for everyone; from fried tofu to fish fillings. You can find these filled baguettes everywhere in Vietnam.
The future of grocery shopping in Vietnam
Traditional grocers may have the upper hand right now, but there's a shift in shopping trends. With more cash to spare and less time for grocery runs combined with rising food safety concerns, people in Vietnam are looking increasingly towards modern stores as their go-to source of sustenance. Throw improved infrastructure into this mix, which makes these stores even easier to get to, plus an increasing demand for high-quality imported goods and you'll be seeing more supermarkets pop up in the near future.
I'm an educator and writer living abroad. I love languages, experiencing different cultures and going on adventures with my family.