Australia is a popular destination for expats, and for good reason. The climate, sunny shores and world-famous natural wonders beckon families looking for an adventure. But what about moving to Australia as a single? We know that moving solo has its own challenges and benefits. Here are 9 practical strategies from singles who have made Australia their home.
Make a connection before you move
If at all possible, try to make contact with someone in Australia before you book your one-way ticket. You don't need to be best friends or anything, just find a local who is happy to answer a phone call. Maybe it's a friend of a friend, an Airbnb host, a potential colleague, or real estate agent or lecturer at university, someone who you can have on speed dial if you get into a sticky situation or if you need recommendations while you find your way around.
Become familiar with popular places and experiences
Having things to look forward to and experiences you're excited to try will help you get the most out of your new adventure. It will also give you something to talk about when meeting locals, and who knows? Maybe they have already ticked off some of the items on your bucket list and you can get in on some local secrets. Australia is home to some of the world's best food and wine, plus a dazzling number of landmarks spread across the country, so it won't be hard coming up with your list!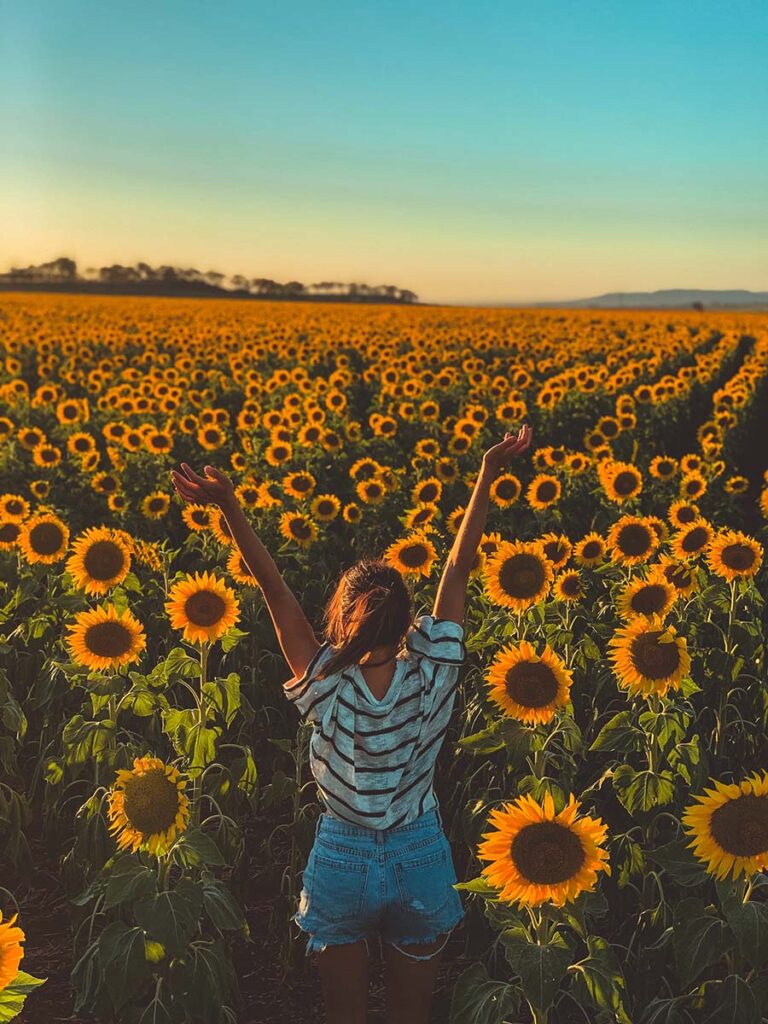 Remember this move is not for life
You may end up living in Australia permanently, but maybe not. Knowing you can move home if you need to can help you relax and take each month and year one at a time. That being said, people who are constantly thinking about returning home find it hard to put roots down, so wherever you are, try to be fully present.
It's worth mentioning that, according to the US News and World Report, Australia scores in the top 10 for best places to live in the world in terms of cultural influence, most modern, quality of life, most-forward looking, traveling alone, green living and education. Some singles find that as they get older they are keen for more stability and a place to call home, so keep an open mind as Australia may become that for you.
Have a routine ready
Having a job or classes to go to helps people make friends naturally and fit into the rhythm of everyday life. Studying in Australia is very popular, with Australia being ranked the number 1 destination in the world to study abroad in 2022 with its 20 World UNESCO heritage sites. It also ranked number 3 in terms of quality teaching and achieving career goals, so it shouldn't be hard to get straight into a course that suits you.
The orientation for universities in Australia is called "O Week" (orientation week), and this is an important time for international students to find out what personal and support services the uni (university) provides and what social events are on offer.
Thankfully employment is also high and stable in Australia, even after COVID-19. There are plenty of jobs for expats in construction, engineering, teaching, nursing and IT, so if you are skilled in one of these areas where Australia has a critical shortage, it shouldn't be too hard to find yourself a job.
Starting work soon after arriving will help you to meet people and have conversations about everyday things and soon you'll start understanding the local customs and ways of speaking (yes, although English is the official language in Australia, Aussies tend to shorten words so it can take a while to learn all the abbreviations. Thankfully most locals will be happy to 'translate' for you).
Invest in relationships
Make friends who you can share your heart with and be your true self around. This is especially important for singles as they don't have a default person to do that with. Thankfully Australians tend to be open and friendly and it's not uncommon to strike up a conversation with a stranger, which can be misconstrued by foreigners as being overly friendly or informal.
If you're looking for a suiter, then good news, Australians splurge over $42 billion per year on dating, with the average single Aussie investing almost $400 a month on dates.
Whether it's a romantic relationship or something platonic, making friendships helps people establish themselves in a new area. After all, part of being human is to want to be understood and accepted and that happens best in a relationship that stands the test of time.
Join an interest group
Apart from work or university, interest groups are probably the easiest way to get to know people in Australia. Whether it be joining a local gym class, going to 'footie' (football) games, finding a popular hobby like surfing, fishing or hiking or having a beer at the pub, finding a common interest can break the ice.
However, don't stress about making those relationships happen. Just be willing to invest in people and take the time to get to know them and let relationships build naturally. And if you're wondering how you'll find the time for all this, 20 holiday days in the norm for Australia, along with between 10-12 public holidays. The average employee works 31.2 hours per week, so having time for a hobby and friends is promising.
Consider shared housing
Something you may notice is the rapidly rising cost of living. Sydney and Melbourne are some of the most expensive cities in the world to live in, with Perth and other Australian cities following suit. So even though salaries are high, rising house costs may mean shared housing is the best option for you. Many singles find this more of a positive than a negative because it forces them to make friends quickly with housemates in a natural setting as they go about everyday life. Shared housing is also easier as a single, as you don't have the extra commitments of a spouse and children and so you can spend more time with your housemates.
Adjust your expectations
Some people put pressure on their new environment to 'feel' like home. However, embracing the differences and enjoying the uniqueness of Australia will help make the transition easier. Although it's natural to compare your new country to where you came from, try your best not to compare but embrace! Try to avoid things like "well back home we don't do this…" or "My country has it figured out in terms of…" Just take it for what it is. Appreciate Australia and appreciate your home country rather than putting them against each other. And if you end up dating a local, it'll help you be comfortable with each other's differences rather than needing to change each other.
Ask questions
Many expats assume they know a lot about Australia because of the media, or because they've been there on a holiday, but they actually get a lot of their assumptions wrong. Although Australia is multicultural and often expats find aspects of life familiar, as you settle in you'll find that it has its own distinct culture.
A challenge will be understanding the nuances of how Australians interact with each other. Learning those differences will take building relationships over time and understanding what is and isn't culturally appropriate. So having the mind set of being a cultural learner and not having preconceived ideas of how things are supposed to be in Australia is really important.
Being open minded, asking questions and enjoying the different aspects of Aussie culture will go a long way! It doesn't mean you won't face challenges or experience culture shock, but you'll find it easier to settle in and eventually find your groove Down Under.
I'm an educator and writer living abroad. I love languages, experiencing different cultures and going on adventures with my family.